Finding My '62 TR4
My last car hunting trip almost didn't happen. I was sort of down and frustrated because I had not found a car and I had been at it for about six months. I was traveling farther and farther away from home to find cars to look at. At the time, I was using the e-mail notify option on TraderOnline to send me an e-mail when any TR4 came on their network in the Northeastern states. I got an e-mail about a car in Buffalo, NY, 1962, signal red, had plates and was driven regularly . The owner said the body was perfect and no rust. Everything was in good shape and had been driven regularly, only in the summer and never in the rain. The price was $6,500.
Sounded good, but this was 450 miles away.... 7-8 hours of driving each way. I was getting really in deep on this TR4 mania, because I could actually talk myself into believing that "it wasn't that far". And what if I found the right car, how would I get it home.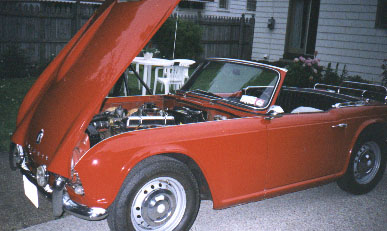 I made plans to go to Buffalo that weekend. When I got there, I found a car that looked very good from 10 or even 5 feet. The car was in fact rust free. I would later find out from the BMIHT search certificate that the car had originally been imported into the US at San Francisco. The only body work I could find was around the battery bay where some sloppy brazing had been done to close a hole in one very specific spot. Must have been a battery leak over time that went right through the sheet metal. I ran the inspection checklist but I already knew that unless I found something awful this was my car. The price would change based on the inspection results.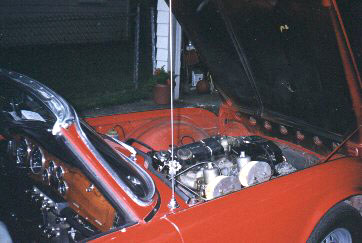 The engine bay was moderately clean, and things looked like they were maintained. I noticed that the carbs were HS6s and the intake manifold was the later full flow type. This would make it a TR4A engine. The engine number was in the 66,000 range, as was the transmission. The compression was around 150 and uniform across all cylinders. The seats, taillights and wooden dash board were also from a TR4A. The car showed signs of an older previous restoration where a TR4A donor car gave up all its prettier bits to make this car look great. The chrome was very good all around except for some usual pitting around the exhaust outlet on the rear bumper. The interior was useable but would need a complete redo over time to suit me.
The test drive was a little disturbing because the exhaust noise was deafening and the engine bay would produce a pronounced banging sound on hard acceleration. The oil pressure was on the low side and got worse as the engine got warmer... although it never seemed to come up to normal operating temperature. The muffler noise was from a worn out Monza style exhaust system... and I noticed later at home that the exhaust manifold was also a Monza style header which leaked a bit. The banging noise was a mystery. More on this puzzle later. The brakes and steering were OK, except for a loose steering column.
Based on the perfect body and old but nice paint job..... the general mechanical condition... I was hooked. I had looked at all kinds of cars in this price range and higher that were just a pile of rust spots and mechanical neglect.... or worse the car was all screwed up by a bad set of owners or mechanics and was a driving nightmare. This car was a very driveable restoration project with a big head start on the body, paint and chrome. I would have to sort out the engine and transmission, which showed signs of high mileage and would need a rebuild in the future year or two. I would also have the problem of retroing the engine bay, dash and interior back to 1962 specs.
The big heartache was the banging noise from the engine bay. It did not sound like bearings and I had all kinds of rattles under the hood on my original TR4 from the bonnet prop-up rod. I decided that whatever it was, I could solve it. My judgment was running completely from emotion not from the brain at this point.
I didn't follow my own advice, and made an offer on the spot. I didn't want to lose this jewel. We settled on $6,100 with a bunch of spares.