Background

The Triumph TR4 has always meant something very special to me. I owned a 1962 Triumph TR4 in early 1963 when I was almost 20 years old. Cars were much more important to young teenagers back then. The cars had no such things as microprocessors or complex closed systems. Everybody had an old car and worked on them all the time. My automotive experience started with a series of American cars starting with a 1955 Ford coupe, followed by a short stint with a 1958 Oldsmobile Starfire convertible and finally a beautiful 1955 Chevrolet convertible. I bought all those cars with my own money from part-time work after school. However, the 1962 Triumph TR4 was my first major car purchase using money saved from working full-time at IBM and from selling the '55 Chevy for a good profit.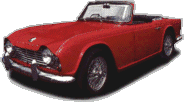 My TR4 was British Racing Green (BRG) with black leatherette vinyl interior. It had the early white dashboard with a black instrument cluster. It had 5.90 x 15 tires on disk wheels, white hood and black tonneau cover. I bought the car from a browbeaten married guy whose shrew of a wife would not let him keep it. He had installed a beautiful Nardi wood rim steering wheel, a German Becker AM/FM radio and an Abarth exhaust system. The sound that car made was just magic. I never had as strong an automobile experience from any other car. As I remember the car had a list price at the dealer around $2,800 at the time. I bought the car for about $2,200 with all the goodies with only 4,000 miles on the odometer.

I enjoyed this car immensely. It defined who I was in a way, because I was passing into adulthood and changing many of my friends and interests. I used the car for daily transportation to work and college at night, and best of all for dating. This was the car to take to the beach with the top down and enjoy on weekend dates. It was fun to drive at every opportunity. I remember picking up my best buddy on summer nights to go "cruising" for girls. When that failed, which was the case most times, we would take the car on this great rural set of roads on Long Island's north shore. We would take turns driving the car to the maximum adhesion level with wonderful moments of "four wheel drifting". The exhilarating four-wheel drift was the best thing about the TR4. It could be driven hard with very good predictable control. It is the kind of car that is not made today.... the kind of car that becomes a virtual extension of your senses and body. You were always encouraged by the car to throw it into a corner and lay on the power to swing the rear end out. This enthusiastic driving also got me involved with local LBC racing although not seriously because I didn't want to damage the car.

I had the car for about 3 years. I ended up selling the car in November 1966, the weekend before my wedding. My future wife had a new 2 door, Chevy II Nova , 6 CYL and 2-speed automatic that her father had given her. It was the sensible thing to do to keep the one newer more reliable car. I regretted that sale the rest of my life. But life had other requirements in store for me like buying a house and having 4 kids.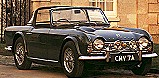 In 1969 the LBC (Little British Car) bug struck again and I purchased a very worn out 1965 MGB for commuting to work. It cost $600 and turned out to need an engine rebuild. As soon as I had changed the oil, the oil pressure went south. This was a major inconvenience, but I had the engine rebuild experience from my American car teenage days. Since the head and pistons showed no serious wear and had good compression, I did a bottom-end rebuild changing all the rod and main bearings with a reground crankshaft. It ran fine for years after that but did not match the TR4 for hard driving fun. In 1972 I bought an almost new dark chocolate brown Triumph TR6 to replace the MGB. The TR6 ran well and was more comfortable than the TR4 but had been ruined in my opinion and did not come close to the TR4. British Leyland had taken over Standard-Triumph and was looking for a larger market for the TR6. They civilized it and added a de-tuned 6-cylinder engine with little of the torquey feel of the TR4. It was now the kind of car the rich father would buy his daughter to take to college. For me it was not a serious blood and guts English sports car anymore. In spite of these opinions, I enjoyed the car for many years. The British car industry was falling apart in the mid seventies and there was not much else to buy in the LBC market that was still affordable.

In 1978 I sold the TR6 and have not owned a LBC since then. My cars have been more reliable and practical. But I would always tell my kids and friends, when the subject of cars or hobbies came up, that someday I would love to find that BRG 62 TR4 again and restore it back to its original wonderfulness.

I recently moved from the New York City northern suburbs (Norwalk, CT) to Groton, Massachusetts to take a new job. Shortly after that I lost interest in my major hobby of the last 10 years, RC model airplanes and at the same time ran into a Triumph web-site on the Internet. I was magnetically drawn to this life-long ambition. Much to my surprise I found that many Triumphs had survived after all these 38+ years and, in fact, there was a very strong and well organized group of Triumph lovers that were restoring and driving Triumphs all over the world. To make the goal even more attainable there were many suppliers available for new parts and accessories. And the parts that you could not buy as NOS (New Old Stock) or as modern reproductions could be found with fellow restorers on the Internet.